Lackawanna Astronomical Society
From AstronomyOutreach network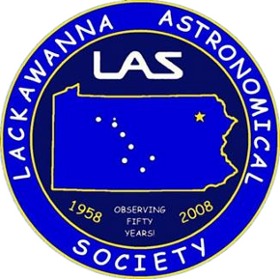 Lackawanna Astronomical Society
holds many free events throughout the region. We work closely with local State Parks and other organizations to generate interest in Amateur Astronomy in Northeast, PA. We also offer many public events from Keystone College's Thomas G. Cupillari Observatory located in Fleetville, Pa.
Along with our public nights at the observatory, one of your best opportunities for observing during the summer months are our free star parties at Promised Land, Lackawanna and Frances Slocum State Parks. The programs include a slide show and observing of the moon, stars, and planets through club members' telescopes whenever possible. Feel free to bring your own telescope if you have one. Don't worry if you don't.
Membership
EVERY month is member's night in the LAS. Club members give informative talks and share observations and project results. There is always coffee and often snacks.
Awards and Recognition
Clubs and Certification Programs
Outreach
While we do try to have the LAS be both BY and FOR members, we also aim to bring astronomy to the public. It is often the most fun you can have with your scope. LAS members help out at TGCO public nights and we also run Astronomy Day as well as monthly summer star parties for the public in each of these state parks, Lackawanna, Frances Slocum and Promised Land. These star parties include a slide presentation and, if the sky cooperates, observing through scopes.
External Links