Kim Zoldak
From AstronomyOutreach network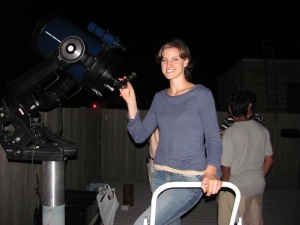 Kim Zoldak
(born 1987) is the President of the
Student Astronomical Society
of the University of Arkansas in Fayetteville.
Biography
For as long as Kim can remember she was interested in astronomy, and recevied her first telescope at about age 10, a Meade Instruments refractor for Christmas from her parents. Today she is a graduate student at the University of Arkansas studying Space and Planetary Sciences and doing research in Astrophysics.
Outreach
Kim conducts outreach events on a regular basis with her club and also at the Arkansas Center for Space and Planetary Sciences. Kim Zoldak is a NASA Space Science Student Ambassador, and is one of the first AstronomyOutreach network Advisors. In addition Kim is an Outreach Counselor for the organization and an Outreach Ambassador for Explore Scientific's Explore Alliance program. She visits local middle/high schools to give presentations in astronomy as well as holds monthly star parties in the Fayetteville area.
External links