Johnson Space Center Astronomical Society
From AstronomyOutreach network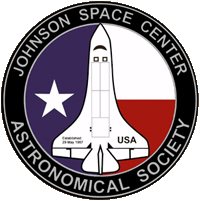 Johnson Space Center Astronomical Society
is dedicated to the acquisition and dissemination of information pertaining to the science of Astronomy. Our goal is not only to serve our members, but the general public as well. We have no dues, no by-laws, we just talk about astronomy and we are living proof that you can get something of value for free!
As part of its mssion of public outreach, the Johnson Space Center Astronmical Society enjoys hosting "Star Parties" where the public has the opportunity to observe the heavens through members' telescopes.
Membership
Membership is open to anyone wishing to learn about astronomy. You do not have to be affiliated with NASA's JSC to be a member. There are no membership dues. Just Show Up. We do not discriminate against persons who have binoculars, telescopes with holes, telescopes with out holes, or no instrument at all.
Awards and Recognition
The Awards SIG (Special Interest Group) is designed to recognize those members who have successfully observed the required objects for the various certificates.
Clubs and Certification Programs
The CCD SIG was established to provide a forum for JSCAS members interested in building or just using CCD cameras for astro-imaging. There are at least five current JSCAS members who have built their own Cookbook CCD cameras and at least two others who have bought cameras and regularly use them to make images. This group includes some of the most experienced and published amateur CCD imagers in the world, including three of the co-authors of a recent article in Sky and Telescope Magazine (December 1998) which documented a well-received breakthrough in color imaging, and two of the chapter authors in the recently published Springer-Verlag book entitled AMATEUR TELESCOPE MAKING. SIG members are always willing to assist others wishing to learn about building, buying, and using CCD cameras and processing the resulting image data.
Outreach
The Astronomical League has a rich history of education and public outreach in astronomy from sponsoring the famous Astronomy Day event that is celebrated around the world by planetariums, clubs, and individuals. Through the coordination of for-the-public hands-on astronomical viewing events by members of its federation, through its annual Astronomical League Conventions, and through its numerous awards and certification programs.
External Links