Explore Scientific
From AstronomyOutreach network
Explore Scientific is a company of Jinghua Optics and Electronics Co. Ltd. JOC, and offers factory direct, high-quality astronomical instruments designed and manufactured in our own facilities in Guangzhou and Kunming China.
Mission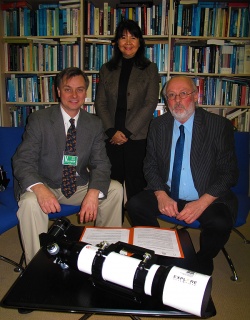 We design, build, and sell telescopes, spotting scopes, binoculars, microscopes, and niche electronics that are high-quality, durable, and a great value. We strive to have a profound effect on people's lives by providing the equipment that becomes an extension of their personal quest of exploration and discovery, and through our participation in recognition programs, awards, workshops, and expeditions.
Founded in 2008 by Scott W. Roberts (former VP at Meade Instruments), Explore Scientific began designing new telescopes and high-end eyepieces, including the new 100° Series Nitrogen-Purged Waterproof Eyepieces. In 2009, Explore Scientific became the exclusive distributor of BRESSER products throughout the Americas, Australia, and New Zealand, and today Explore Scientific is a sister company to the German-based optics company BRESSER.
Established in 1957, BRESSER is one of the best known optics companies throughout Europe. Now owned in part by JOC, Explore Scientific distributes BRESSER's high-quality sporting and hunting optics, including riflescopes, binoculars, spotting scopes, laser range finders and other outdoor items. In addition BRESSER offers its own line of astronomical telescopes, microscopes, optical instruments, including other science and outdoor products designed for children.
In 2010, the exclusive manufacturer of Explore Scientific's telescopes and eyepieces, Jinghua Optical Electronics Co., Ltd. (JOC), became a partner with Roberts and now owns a majority of the company.
JOC
A leader in Asia's optoelectronic field, JOC maintains two facilities in China, one in Guangzhou, and the other in Kunming. JOC was established in 1997 and manufactures a full range of telescopes, binoculars, spotting scopes, digital microscopes, lens modules for digital cameras and mobile phones, digital night vision, laser rangefinders, and optical engines for micro projectors. JOC Guangzhou has ISO9001 and ISO14001 certification.
BRESSER
In 2009, Explore Scientific and BRESSER reached an exclusive distribution agreement throughout the Americas for binoculars, spotting scopes, microscopes, night vision, and other products.
Founded by Mr. Josef Bresser in 1957 which he managed for the rest of his life. BRESSER began by specializing in the import and distribution of binoculars. In 1979, his son Mr. Rolf Bresser, took over the business and became a major force in the industry for technical development and design of new and innovative optical products.
Over the last thirty years the product portfolio of BRESSER has been continuously expanded with a number of patents and the company today is one of the leading suppliers of optical instruments throughout Europe and one of the largest in the world.
Outreach
Explore Scientific supports many education and public outreach initiatives in astronomy through their telescopes including the David H. Levy Comet Hunter (supporting the National Sharing the Sky Foundation), the Buzz Aldrin Moon Explorer, the AR127 Air-Spaced Doublet (supporting UNESCO's Space Education Program), the ED127 Air-Spaced Triplet Apo (supporting the Astronomical League's National Young Astronomer Award), and the Carbon Fiber ED127 Air-Spaced Triplet Apo (supporting Astronomers Without Borders Global Astronomy Month project).
Explore Scientific is the official underwriter of the Leslie C. Peltier Award, and the National Young Astronomer Award, and is a sponsor and underwriter of the AstronomyOutreach network.
External links