Colorado Springs Astronomical Society
From AstronomyOutreach network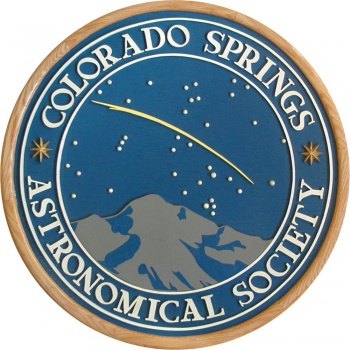 The Colorado Springs Astronomical Society
(CSAS) is a nonprofit organization dedicated to the enjoyment of the nighttime sky. The club is a member society of the Astronomical League (AL) and the International Dark-Sky Association (IDA).
CSAS regularly meets to observe the splendors of the dark, dry, Colorado skies. In addition to monthly observing sessions, CSAS holds monthly membership meetings on the fourth Tuesday of each month. The meetings are held at 7 p.m. and usually consist of a short business meeting and a program presented by a member or guest speaker.
Star parties are CSAS's most frequent activity where members meet at a dark sky site and observe the night sky. Typically, CSAS schedules one official monthly star party and club meeting. However, many members get together on short notice for impromptu observing sessions throughout the month. Members are contacted for a last-minute impromptu through the organization's forums.
CSAS is also the administering society of the newly developed Earth Orbiting Satellites Observers Club (EOSOC) program for the Astronomical League. This new observing program is open to all League members and MAL's throughout the United States and overseas.
Membership
CSAS membership is diverse in age, education, occupation, astronomical experience and expertise. Some members have formal training in astronomy, but the majority are non-technical hobbyists. Many are beginners* who merely want to increase their understanding of the heavens.
Each individual receives, as part of their club benefits:
One full membership (one voting share) in CSAS and AL.
One group membership to the IDA.
(One subscription to the Reflector (AL) newsletter.
Club discounts on subscriptions to Astronomy and Sky and Telescope magazines.
10% discounts off of any astronomical book publication (administered through AL).
Observing program awards (administered through AL).
Access to the CSAS Members Only sections of our Forums and ability to post content to the website (with approval). You need to register for the forums/website through the forums and let them us that you are a CSAS member. This, unfortunately, is a separate process from membership. The separate registrations and logins are not deliberately inconvenient — it is just the best that we can do right now. (Remember this is a volunteer organization!) We believe that what you get out of CSAS will be worth the minor inconveniences.
The opportunity to give back to your community by participating in events and sharing your expertise, at whatever level.
Access to the CSAS privately owned 40-acre observing site in Gardner, CO.
Owning a telescope is not required for membership in CSAS. The only requirement is a spirit of adventure and willingness to enjoy the night skies.
Colorado Springs Astronomical Society P.O. Box 16318 Colorado Springs, CO 80935-6318
Outreach
CSAS hosts public star parties, often in conjunction with nature education programs of the El Paso County Recreation Department. The organization sponsors public viewing sessions at Bear Creek Nature Center, Memorial Park, Sky Sox Stadium and other local facilities. Also, CSAS presents astronomy programs for local schools and nonprofit organizations through the Project Astro program.
During June-July, CSAS hosts a weekend astronomy camp-out called Rocky Mountain Star Stare for astronomy enthusiasts throughout the country and abroad. The organization also attends and supports similar events sponsored by other Rocky Mountain clubs.
External Links
The Official Website of the Colorado Springs Astronomical Society