Blue Ridge Astronomy Club
From AstronomyOutreach network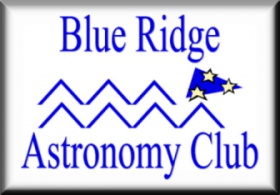 Blue Ridge Astronomy Club
"Promoting, Observing, Sharing"
MISSION STATEMENT
"The Blue Ridge Astronomy Club is a nonprofit group promoting astronomy and science as a hobby for people of all ages in central Virginia. The goals are to bring people together with a common interest, promote education, observe the night sky, and share knowledge. The club actively seeks new members with all levels of experience from beginners to professionals."
Membership
Meetings are open to the public. Please join us and bring a friend!
Awards and Recognition
Clubs and Certification Programs
Outreach
External Links